Today (01.09.2020) at 9:00 am Shobuddin Badalov, an activist of the political movement "Group 24", was arrested by the "police officers" in Nizhny Novgorod, Russian Federation, at his place of residence. According to our information, several persons, posing as officers of the 5 th Department of the Internal Affairs, arrested him and took him away in a police vehicle. At the moment, his location is unknown and his lawyers are working in this case.
The political movement "Group 24" links the detention of Shobuddin Badalov with his opposition political activities and suspects the Rakhmonov's regime. We remain, that Shobuddin Badalov, along with other activists, participated in the protest against Rahmonov's visit to Moscow, after which he was arrested along with Rakhmatjon Makhmad. The Moscow court sentenced them twice for 15 days in prison. After one month, on July 24, 2020, they were released.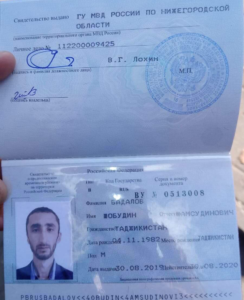 This is the document about his refugee status, that was granted to him by the russian authorities. 
The representatives of the "Group 24" in Russia are currently working through several channels to establish his whereabouts. More detailed information will be published soon…
Information portal of the "Group 24"