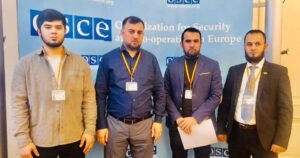 Participation of representatives of the political movement "Group 24" in the OSCE session in Austria.
The annual session of the Organization for Security and Cooperation in Europe opened today in Vienna,Austria. This meeting will be held from March 13 to 14 and is devoted to the topic "Freedom of the press."
At the meeting, representatives of different countries will analyze and discuss the situation with freedom of the press.
This meeting from the political movement "Group 24" will be attended by the representative of the movement in Austria Khursanjon Nazhmiddinov, activists Kurbonali Zukhurov and Khairandesh Goibov under the leadership of Muhammadsobir Abdukakhhor, the representative of "Group 24" in the European Union.
We will update you on the progress of this important international meeting.
Political movement "Group 24"