On April 16, 2019 Rahmonov went to Moscow with "an official" visit. He had to go there on April 17, 2019, but for unclear reasons he made his visit a day earlier. We try to explain the purpose and the outcome of visit of Rahmonov and his administration during these two days. In general, Rahmonov's visits within the country are carried out at huge expenses and grandiose performances. Students and especially beautiful girls in traditional summer clothes with short sleeves and flowers in hand regardless of weather conditions are forcibly taken to the street for welcoming the President. Hundreds of meters of expensive carpets are put so that the President would walk through them. And for international visits high raning officials escort the President to the airport. This time Chairman of Majlisi Milli Majlisi Oli, Mahmadsaid Ubaydulloev, Chairman of Majlisi Namoyandagon, Shukurjon Zuhurov, Prime Minister of Tajikistan Kahhor Rasulzoda, and Chief of the President's Executive Office, Ozoda Rahmon came to the airport to escort him.
Generally during official international visits Head of State is met at airport either by President or by Prime Minister. But as always Rahmonov was met in a way that is appropriate for him. Neither President of Russia Vladimir Putin, nor the Prime Minister of Russia, nor Lavrov, the Minister of Foreign Affairs of Russia went to Moscow airport "Vnukovo" in order to meet Rahmonov. Rahmonov was met at the airport by the Assistant Minister of Foreign Affairs of Russia, Grigory Karasin. Rahmonov was unsatisfied about it and looked very angry. Besides, representatives of "Group 24" in Russia met him according to program called "Warm welcome". Representatives of "Group 24" organized and carried out a protest against Rahmonov in the center of Moscow in Red Square close to the Kremlin. They distributed brochures to pedestrians and pasted leaflets at stops and public places saying "MEET, DICTATOR RAHMONOV". Wherever Rahmonov goes, such "Warm welcome" by "Group 24" awaits him.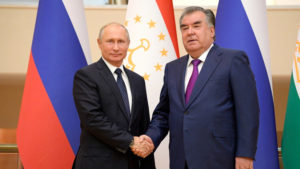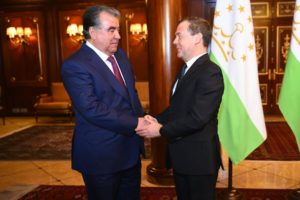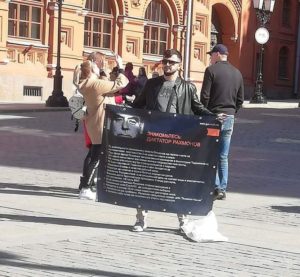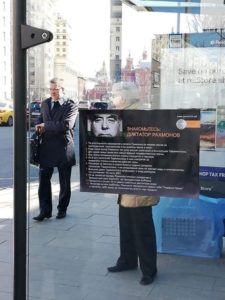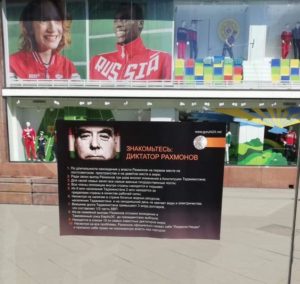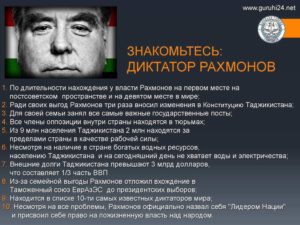 The purpose of his visit is not which pro-government media tells about. There are very crucial and fateful elections ahead. Elections in which Rahmonov develops a program of possible transfer of power to his son – Rustam. A program which is hardly possible without the consent and approval of the Kremlin. That is why this visit is considered fateful for Rahmonov. He will do his best to achieve his goal.
That's why he is not joining the Customs Union and holds off. But during this visit he rather more often spoke about economic and military cooperation. Perhaps Rahmonov will join the Eurasian Customs Union after tranfering the power. Besides, it is obvious that this "working" visit won't benefit the country and citizens in general. Because every year tens of agreements are signed between Tajikistan and Russia, but none of them are realized. Rahmonov requested granting amnesty to deported Tajik labor migrants and simplify for them the process of staying in the territory of Russia. However, Rahmonov's request was rejected. This dictator tries to find ways of increasing number of Tajik labor migrants instead of diminishing their number and returning them back to the country. This is because he knows that money that migrants send – raises the GDP of Tajikistan.
This dictator during this visit met with the leadership of diaspora, students, businessmen and other famous Tajiks living in Russia. During this meeting he read a report which was prepared in advance. First Rahmonov spoke about Rogun and electrical independence whereas most of the part of the population faces electricity limits. "Barki Tojik" is gone bankrupt even though it was exempted from paying any kind of taxes. Instead of admitting its guilt and inability, it puts the blame on ordinary citizens and claims that citizens owe money. Rahmonov regarded the opening of roads as an achievement whereas in Turkmenistan border cars with Tajik products are detained for months and in Kyrgyzstan border some of our citizens were killed. Rahmonov called upon entrepreneurs and businessmen that live abroad, to invest in the economy of the county. Probably this evil thinks people are stupid and idiot and they don't know what is happening in the country and what the condition of business sector is. Or Rahmonov thinks that people have forgotten those successful entrepreneurs whom Rahmonov, his children, and his relatives imprisoned, killed or expelled from the country and confiscated their wealth.
During his speech he spoke about science and education. He forgot that more than 40 doctors of science, professors and candidates of science were accused of plagiarism by Dissernet.
Rahmonov also spoke on the topic of "Means of Modern Information". He said that "developing means of modern information gives the opportunity to impact on opinion of a country's citizen".
These words were said by a dictator whereas in the country citizens are unsatisfied with regards to increasing internet prices. From this killer's speech we may understand that he feels threats and thus restricts access to World Wide Web and at the same time deprives citizens of opportunities to connect with each other.
It should be noted that activists of "Group 24" that took part in the protest "Warm welcome", were arrested by Moscow police and released after two hours. 
Information portal of the Group 24