A rally by the political movement "Group 24" in front of the UN office in Warsaw, Poland.
 These days, an annual conference of the Organization for Security and Cooperation in Europe is being held in Warsaw, Poland. Taking the opportunity to attract the attention of the international community, the political movement "Group of 24" organized a picket against the crimes of the Government of Tajikistan and its permanent and immortal leader Emomali Rahmonov.
 We once again gathered here to draw the attention of the whole world to the problems and gross violation of rights in Tajikistan. Dozens of dissenting activists and members of the political movement "Group 24" held posters and posters with photographs of people who were killed without guilt or hidden behind bars for a long time by the bloody Rakhmonov regime. These are the people who came out for a peaceful rally, unarmed, to have their say and support free speech. The whole world should know about the merciless methods of Rakhmonov's struggle with dissent and freedom. 30 years of the rule of a non-legitimate president led the country to complete collapse: the economy is destroyed, and the state's money is in the pockets of Rakhmonov's entourage. Tajikistan has become the poorest state in the world, unemployment is growing from year to year. Today, our citizens are forced to work in a foreign land, far from their families, work in terrible conditions, and at the same time, GDP and the country's economy are half dependent on the money sent by migrant workers.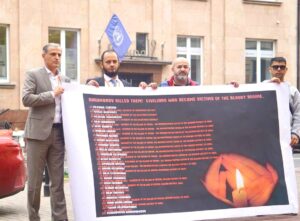 On behalf of all citizens of the Republic of Tajikistan, we ask all world organizations to pay attention to the internal problems of the country and no longer finance large projects, do not lend or allocate grants while Emomali Rahmonov is in power. All the same, these funds will not go to the development of the state and not for their intended purpose, but will settle in the pockets of Rakhmonov and his inner circle!
Political movement "Group 24"