Speech by the representative of the political movement "Group 24" in Ukraine Zafar Goibov at the annual conference of the Organization for Security and Cooperation in Europe.
On October 3, the representative of the political movement "Group of 24" in Ukraine, Zafar Goibov, took part in the annual conference of the Organization for Security and Cooperation in Europe in Warsaw, Poland, on the topic "Tolerance and Discrimination." "Equal Opportunities and Rights of Women and Men."
"The Constitution of the Republic of Tajikistan," Zafar Goibov began, "guarantees equality of both sexes. But gender discrimination is a big problem in Tajikistan. The country's labor market is focused on men, it is very difficult for women to find work. Most women are registered with the employment service of Tajikistan. Employers always give preference to male candidates. At the same time, the woman cannot prove that she was discriminated against on the basis of sex.
There are no cases of sexual violations of women's rights in Tajikistan, but not because there is no such discrimination, but because women do not go to law enforcement and the judiciary because they know the authorities will take sides. Girls in Tajikistan face gender inequality at an early age: many families decide not to spend money on sending their daughter to school, believing that marriage is more important for the girl than education. Many women do not even have a school education, and few of them graduate from high schools. Only about 5 percent of women in Tajikistan have higher education.
Continuing his speech, Zafar Goibov stressed that domestic violence is the most common form of discrimination against women in Tajikistan. According to unofficial information, almost two-thirds of Tajik women are victims of domestic violence to some extent. Often women are married against their will, their husband's relatives force them to do hard work.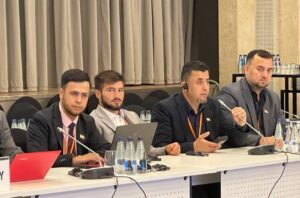 Widespread poverty in the country does not give women the opportunity to study and get a good job, and the lack of work makes a woman powerless and completely dependent on her husband. There are no measures of state support for women victims of domestic violence, there are no institutions that protect women's rights. The laws of the democratic and secular order do not recognize violence and cruelty.
However, Zafar Goibov ended his speech, at the state level they try not to notice discrimination against women, because there is no official complaint against them.

Political movement "Group 24"