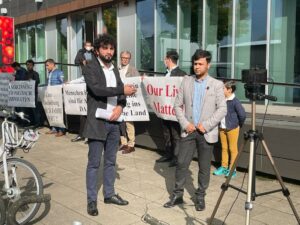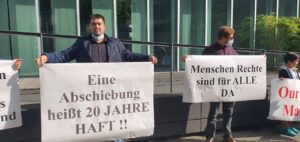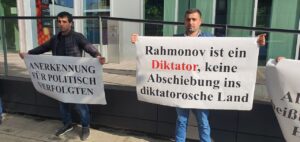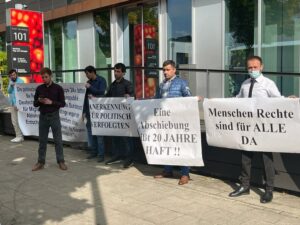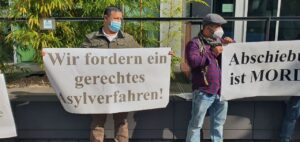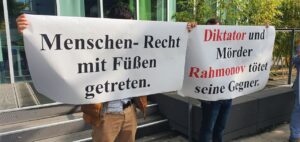 On October 7, 2021, at the building of the Migration Service of the Ministry of Internal Affairs of Germany in Cologne, a protest rally of the political movement "Group-24" was held against the unfair consideration of cases of political activists from Tajikistan.
A total of 30 people came to the protest. Unfortunately, many who wanted to participate in it were unable to come due to the fact that the event was held among the working week, and due to the current insidious restrictions.
Participants in the peaceful protest held posters: "One deportation is 20 years in prison," "Rakhmonov is a dictator, there is no deportation to a dictatorial country," "Deportation is death," "Dictator and killer Rakhmonov kills his opponents," "Human rights trampled" and others.
The German government denied some oppositionists, citizens of Tajikistan, political asylum. Now these citizens have been notified that they must leave Germany, otherwise they will be deported to their homeland. In Tajikistan, they face real deprivation of liberty, persecution, torture and even death in connection with their opposition activities. Among these people, there are supporters, members and activists of the political movement "Group 24", there are also independent opposition activists.
The law enforcement authorities of Tajikistan are aware of their activities and criminal proceedings have been instituted against them. Their close relatives are subjected to systematic pressure from law enforcement officials in Tajikistan.
Recall that for 09.10.2014 years, the Supreme Court of Tajikistan recognized the political movement "Group 24" as extremist and its activities were banned in Tajikistan. This court decision was illegal and politically motivated.
According to article 307, part 3 of the Criminal Code of Tajikistan, "Participation in the activities of political parties, a public or religious association or other organization in respect of which a court has decided to liquidate or prohibit their activities in connection with extremist activities is punishable by imprisonment for a term of five to eight years."
In addition, recently people have been imprisoned even for putting "Like" on social networks.
In this regard, the protesters called on the Government of Germany and other EU countries to rely on justice and international law in investigating and reviewing the cases of oppositionists and political asylum seekers, as well as preventing their extradition to Tajikistan. Only this will save them from torture and imprisonment in their homeland.
The political movement "Group 24" appealed to the Government of the Federal Republic of Germany, in particular to the Federal Office for Migration and, in connection with the denial of asylum to political activists, to reconsider these decisions, as these people are indeed at risk of imprisonment.
Political movement "Group 24"