Taking hostages and using them as a pressure on his opponents is one of the methods struggle of Rahmonov and his regime until now. Even though it never brought him success and all the hostile actions against his citizens were unsuccessful, he still continues to use this method.
The family of Muhammadsobir Abdulkahor, the representative of Group 24 in Commonwealth of independent Countries, is one of those families, that because of the political views of Muhamadsobir is a prisoner of the regime. His parents, wife, children, and brothers are under constant pressure from Rahmonov's law enforcement agencies and still, suffer under psychological torture. The authorities of Rasht district repeatedly organized local meetings and publicly insulted and humiliated his parents and relatives.
On December 31st 2017, Muhammadsobir's wife Zamonova Madina and their young son Muhammadyusuf wanted to fly from the airport of Kulob city to Moscow with hope to meet the husband and father, who is living far from them for the past 6 years. However, these innocent people were removed from the flight by airport staff and subsequently taken by Kulob city's security officers and were interrogated for 4 hours.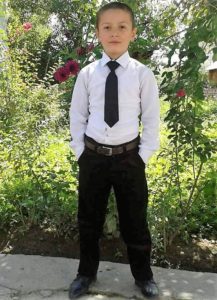 Recently, Rahmonov's regime pretended to change the direction of its anti-people policy. But what happened 2 days ago once again proved, that all this is nothing, but a staged game showed to the world community.
Two days ago, wife and son of Muhamadsobir went to the Security committee office in Rasht district to negotiate about solving their problem. However, Murodov Nurali, the head of the Security office in Rasht did not accept them and through his assistant told, that if until today they were 60% in captivity and under supervision, from now they would be on 100% under the supervision and would not be able to go anywhere!
"We came up with the shed blood, we will end up spilling blood!" This is the motto of Rahmonov's regime, because to spill blood and to make all inhuman actions is in their nature. They do not even spare the helpless innocent wives and children of oppositionists.
Muhammadsobir's brother, Saigoziev Muhammadzafar Abdulkahhorovich is also because of the political views of his brother a prisoner of the regime and is not able to go outside the country. The security authorities of the Rasht district took away all his documents from him. Against his other brother Saigoziev Abumusayor, who is abroad the country was opened a criminal case because of the political views of Muhamadsobir. He, like Muhammadsobir, is on the international wanted list and can not return home.
Such inhuman method is used actively in Tajikistan. In any other democratic countries, everyone is responsible for his own actions and deeds. Even during wars, parents and families are not used as hostages, are not pressured and repressed. Muhammadsobir is himself fighting against Rahmonov and his regime, not his family and parents, so the regime should deal only with him.
Governments and rulers will come and go, but those individuals and officials who act unjustly and inhumanly against their own citizens remain a black spot in the history of the country. Rahmonov's regime will also be destroyed sooner or later, and then every sycophant and supporter of this regime will be responsible for his actions to the people! These actions further tarnish the already defamed face of the Rahmonov regime at the domestic and international levels!
Shokhin Makhmadshoev