On 27-28 February, activists of the political movement "Group 24" have made in Georgia, Austria, Germany, Holland, Sweden, Ukraine and Russia a pickets under the slogan "He asked for protection, not deportation", dedicated to the release of the activist of the movement Mustafo Hayotov. The pickets were conducted near the Embassy of the Republic of Poland in these countries. Mustafo Hayotov was detained on 23.06.2018 and and sent to the closed camp for the people, who wait their deportation in Poland. After the pickets, the Group 24 activists met with representatives of Polish embassies in the above-mentioned countries, discussed the situation around the detained activist and handed them official letters of the Group 24.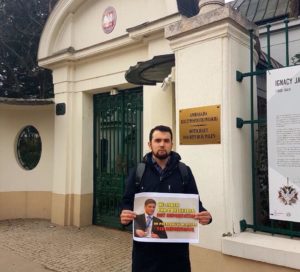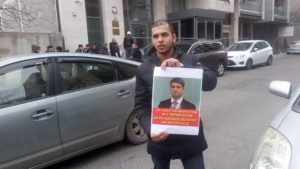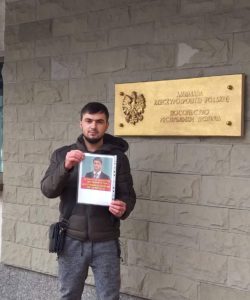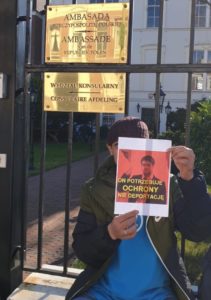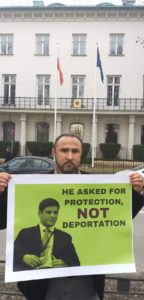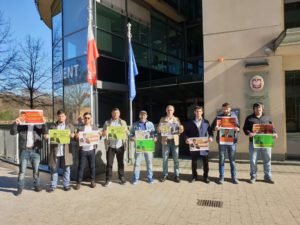 According to the Press-Secretary of the Group 24 Saidali Ashurov, "the event was held with the aim of drawing attention of the authorities of the Republic of Poland and international organizations to the case of Mustafo Hayotov. We wanted to explain his situation and what he could expect in case of extradition. And of course, the main goal is his release."
Mustafo Hayotov is an activist of the Group 24 and before his detention was responsible for the promotion and dissemination of the materials of the movement in social media. He was detained and placed in a closed camp for persons awaiting their extradition on June 23, 2018. His case is currently being considered by the court. Group 24 has repeatedly addressed the relevant Polish authorities on this issue.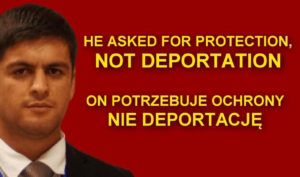 It should be noted that Mustafo Hayotov is the latest activist of the Group 24, who is in detention. All the other activists, who were detained up to this moment in different countries, except Tajikikistan, are released by the efforts of the Group 24 and the relevant international organizations.
Shokhin Makhmadshoev